Ken Bromley Art Supplies is a family business in the true sense of the word - currently there are two generations of Bromley's working in the business with a third coming up the ranks - well in the school holidays anyway!

Meet the family, Laureen, Andrew, Michael, Iris, Melinda & Richard all work for the company.
Bromleys has a heritage going back to World War II, when Bletchley Park-based Ken Bromley invented the innovative 'Perfect Paper Stretcher' as a response to the wartime shortage of gummed tape. This enabled Ken to continue watercolour painting, trading his works for pints of beer in local pubs!
This smart solution remained an invention popular with artist friends, family and customers, who eventually began to request watercolour paper to go along with the stretcher board. This led to the creation of the 'Paper by Post' service, offering flat packed sheets of paper at ½ and ¼ imperial size, a first for the industry.
Bromleys Art Supplies expanded a generation later when Richard, Ken's son, began stocking paint, brushes and accessories alongside the 'Perfect Paper Stretcher' and 'Paper by Post' service, soon growing a loyal customer base.
Ken with his original paper stretcher

1993 - our paper by post logo

One of our early catalogues - issue 8. We used to print these little catalogues in house on our own printing machine.

The catalogue was only two colours and the paints were just shown as lists of colour names!
Based in Horwich, Bolton, the store grew from a couple of rooms above a travel agency to the warehouse they are currently located in, via premises in a former greengrocers and boys brigade building!
Every member of our staff, past and present, has a passion for art that translates into the very best advice and service for our customers. We love art and creativity and care deeply about helping artists of all levels to achieve great results.
When you shop with Bromleys you're not only getting the best materials but also benefiting from the advice and experience of our staff - many artists themselves, all dedicated to helping others find the materials and tools to bring your artistic visions to life.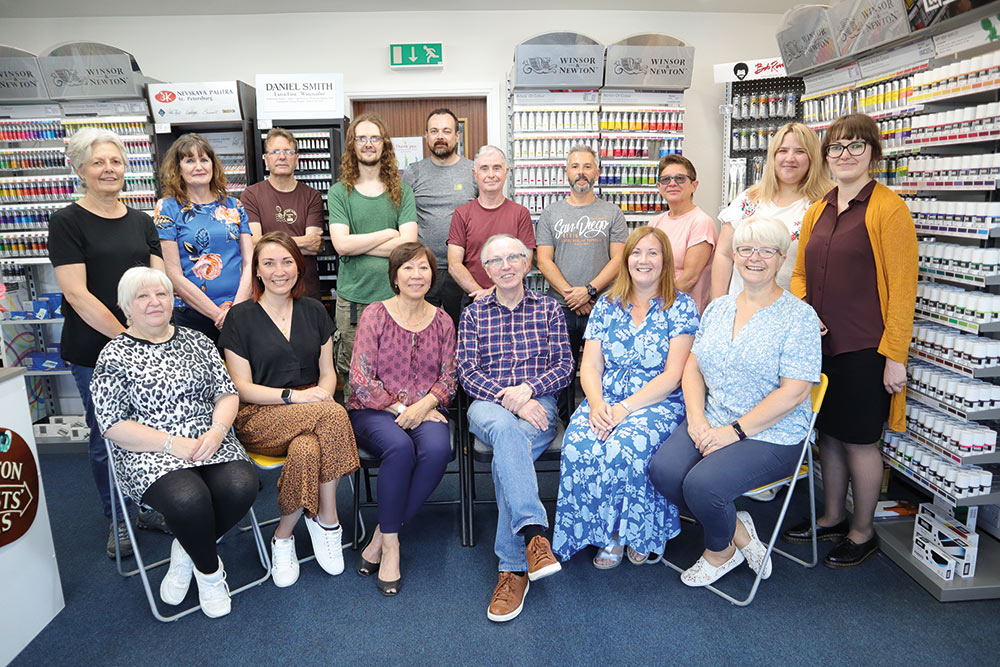 The Ken Bromley Art Supplies Team
Introducing the staff at Ken Bromley's who are here to take your orders, give assistance & advice, pick, pack and send out your parcel with care.
Back Row: Susan, Leslie, Tony, Daniel, James, Graham, Steven, Deb, Alex, Tanith. Front Row: Pauline, Laureen, Melinda, Richard, Liz, Liana. (Missing from the photo, Craig & Jan)
Located in Horwich, Bolton we moved to our new warehouse in 2011. We also have a small shop attached to the warehouse where you can come and browse and even try some of the materials we have on offer.
Take a virtual tour of our shop
Our Values
Reliability - We can be relied upon to provide the best advice and products, at a fair price, in the quickest time. You can trust us to always respond to your needs and stock only products we know will work.

Passion - We love art and creativity and care deeply about helping artists of all levels to achieve great results.

Loyalty - We are loyal to our customers, suppliers and employees and are all-round good people to do business with.
Location
We are based in Horwich, Bolton, situated 15 miles northwest of Manchester, England.
Click here for a map
Copyright
The contents of this web site produced by Ken Bromley Art Supplies is protected by copyright. Any photographs, logos, artwork or copy owned by Ken Bromley Art Supplies may not be used without permission in writing.